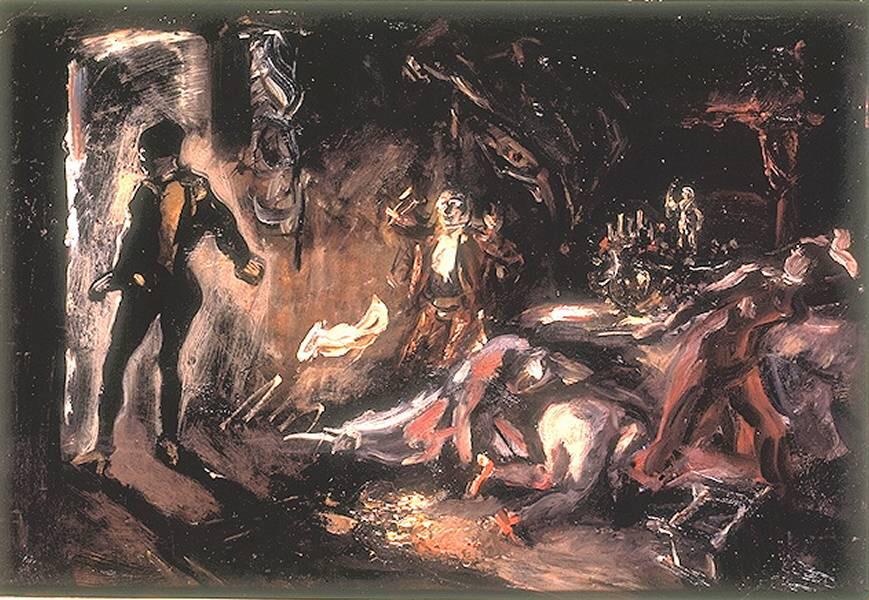 On September 27 1815, Lord Byron writes to John Murray.
"That's right, and splendid, and becoming a publisher of high degree. Mr. Concanen (the translator) will be delighted, and pay his washerwoman; and in reward for your bountiful behaviour in this instance, I won't ask you to publish any more for Drury-lane, or any lane whatever again. You will have no tragedy or any thing else from me, I assure you, and may think yourself lucky in having got rid of me, for good and all, without more damage. But I'll tell you what we will do for you,—act Sotheby's Ivan, which will succeed; and then your present and next impression of the dramas of that dramatic gentleman will be expedited to your heart's content; and if there is any thing very good, you shall have the refusal; but you shan't have any more requests."Sotheby has got a thought, and almost the words, from the Third Canto of the Corsair, which, you know, was published six months before his tragedy. It is from the storm in Conrad's cell. I have written to Mr. Sotheby to claim it; and, as Dennis roared out of the pit, 'By G—d, that's my thunder!' so do I, and will I, exclaim, 'By G—d, that's my lightning!' that electrical fluid being, in fact, the subject of the said passage.
"You will have a print of Fanny Kelly, in the Maid, to prefix, which is honestly worth twice the money you have given for the MS. Pray what did you do with the note I gave you about Mungo Park?
"Ever, &c."
The image above is 'Don Juan's Encounter with the Stony Gues' by Max Slevogt.