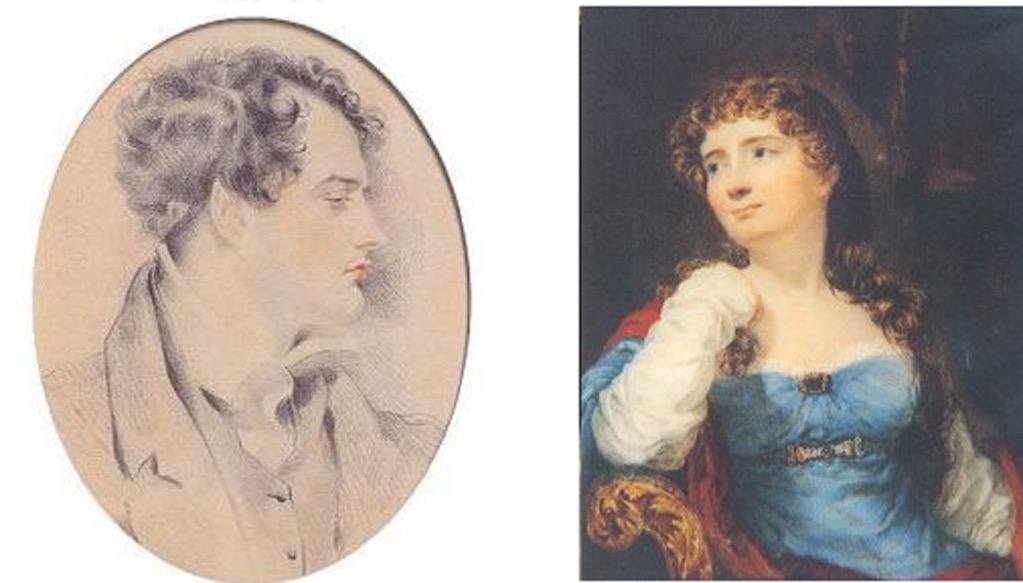 On August 31 1815, Lord Byron is on his way to see his sister Augusta at Six Mile Bottom. He has forgotten some vials with "drops" on his dressing table so he writes to Lady Byron, from Epping, to send them to him.
Dearest Pip―The learned Fletcher with his wonted accuracy having forgotten something I must beg you to forward it. On my dressing table two phials labelled "drops," containing certain liquids of I know not what pharmacopoly – (but white & clear so you can't mistake I hope). One of these I want in my material medica. Pray send it carefully packed to me at Goose's per coach on receiving this – and believe me ever most lovingly thine
B. (not Frac.)
Meanwhile, Lady Byron is rather concerned that Byron has left so she writes a playful but worried letter to him. Before Byron left, there had been acrimony and tension that would only increase as summer gave way to fall and winter.  She writes:
Darling Duck―I feel as if B. loved himself, which does me more good than any thing else, and makes young Pip jump.
You would laugh to see, and still more to hear, the effects of your absence in the house. Tearing up carpets, deluging ["relaying"?] staircases, knocking, rubbing, brushing!―By all these I was early awakened, for Mrs. Mew seems convinced that my ears and other senses have departed with you. She no longer flies like a sylph on tiptoe, but like a troop of dragoons at full gallop – The old proverb―"When the Cat's away, the Mice will play." They shall have their holiday, but I can't fancy it
mine. Indeed, indeed nau B. is a thousand times better than no B. I dare not write any more for fear you should be frightened at the length, and not read at all; so I
shall give the rest to Goose.
I hope you call out "Pip, pip, pip" now & then―I think I hear you; but I won't grow lemoncholy
…. A—da.
(Thursday) Aug 31.
I have just got post―with dear good B's mandate which shall be obeyed, and I am rather obliged to Fletcher for his forgetfulness.
Sir J. Burgess returned.