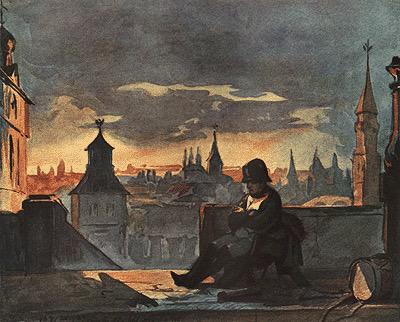 "We had light baffling weather all day. In my conversation with General Buonaparte, the only thing which passed worthy of notice, was his remarking to me, amongst other things, that he had been placed in chief command, as a general officer, at twenty-four years of age; and that he made the conquest of Italy at twenty-five. He said he had risen from nothing, to be Sovereign of his country (as Consul) at thirty; and that if chance had caused him to have died, or to have been killed the day after he entered Moscow, his would have been a career of advancement and uninterrupted success, without a parallel; and that the very misfortunes which afterwards befell the French army, would in such case probably have tended rather to the advantage than disadvantage of his fame. Though unavoidable, they would certainly, then, have been attributed more to his absence, than to their true cause.
The General left the vingt-un party rather abruptly this evening,, and retired earlier than usual.
Our latitude and longitude this day, were 41° 57'N., and 11° 11′ W.
— Sir George Cockburn on the HMS Northumberland writes in his diary for August 17 1815.