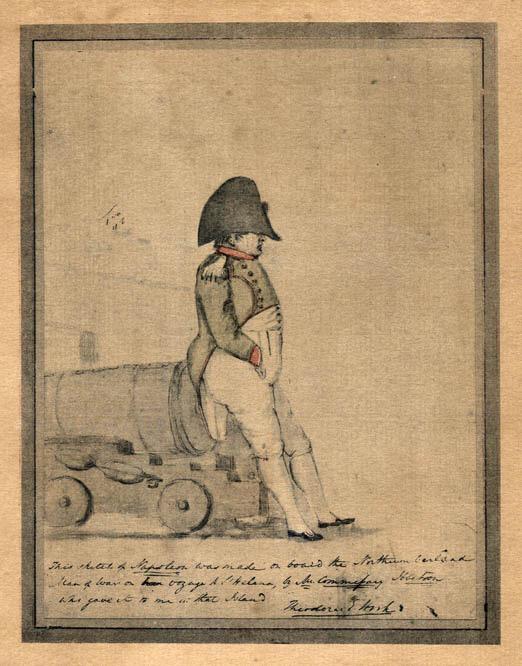 August 10th. As soon as the brig I had sent to Falmouth rejoined me, we made sail on the starboard tack, the wind being still from the westward, with considerable swell from that quarter. Buonaparte did not make his appearance until just before dinner, when I found him playing at chess in the great cabin with the Comte de Montholon. He appeared to me to play badly, and evidently inferior to his antagonist, who I observed nevertheless was quite determined not to win the game from his Ex-Majesty.
At dinner Buonaparte told me, when talking about our late contest with America, that Mr Madison was too late in declaring his war, and that he never made any requisition on France for assistance: that he (Buonaparte) would very readily have lent any number of line of battle ships Mr Madison might have desired, if American seamen could have been sent to man them, and carry them over; but that the affairs of France beginning to go wrong about that period, it was out of his power to afford any other material assistance to the American Government.
Immediately after dinner to-day, the General got up rather uncivilly, and went upon deck as soon as he had swallowed his own coffee, and before all the rest of us were even served. This induced me to request particularly the remainder of the party to sit still; and he consequently went out attended only by his Mareschal, without the slightest further notice being taken of him. It is clear he is still inclined to act the Sovereign occasionally; but I cannot allow it, and the sooner therefore he becomes convinced it is not to be admitted, the better.
General Gourgaud, (who was in the battle of Waterloo,) told me to-day, that during that battle, when the Russians appeared, Buonaparte believed them to have been general Grouchy's division, —he having left between thirty and forty thousand men with that general, under orders to advance in the same direction from which the Russians came, if from the firing heard, general G. should have reason to suppose the day was obstinately contested by the English. And this, he said, induced Buonaparte to persist in his efforts so long ; and occasioned, when it was discovered that there were nothing but Russians on the French flank, so general and complete a rout.
He observed that Buonaparte was forced off the ground at last by Soult; that he proceeded as quickly afterwards as possible to Paris, but so great was the panic and disorder among the French soldiers, that many of them arrived at Paris without arms or accoutrements, — some behind carriages, others in carts, &c, on the same day with the general and his attendants, not having halted once from the moment of their quitting the field. They reported every where, as they passed, that all was lost! So well did these soldiers follow the example of their chief in the hour of difficulty and danger.
Our latitude this day, at noon, was 49° 41'N.
— Sir George Cockburn on the HMS Northumberland writes in his diary for August 10 1815.