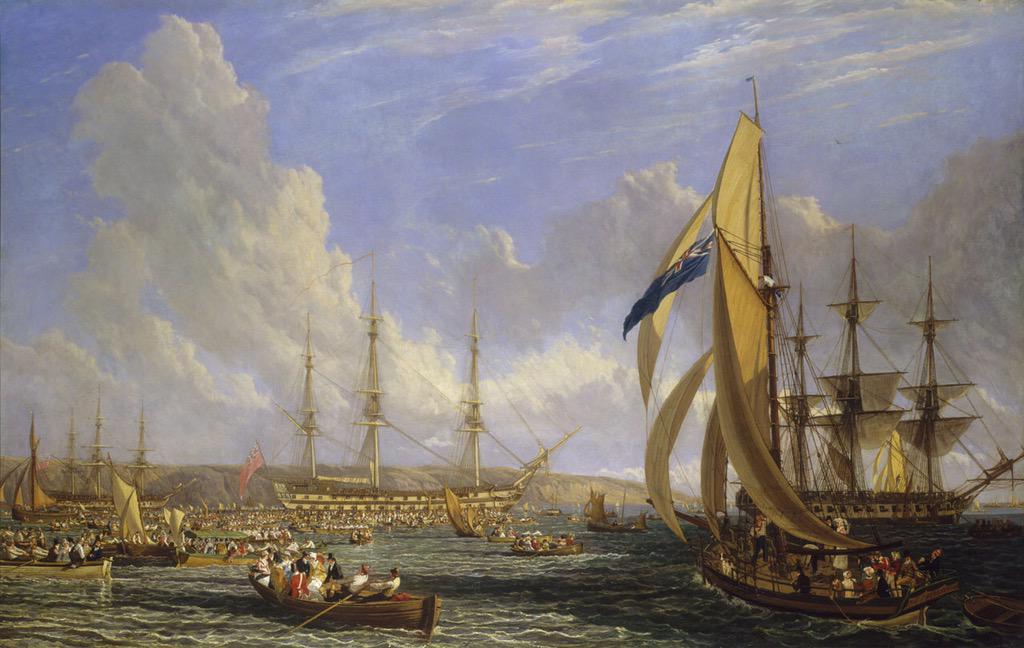 "At daybreak of the 24th of July, we were close off Dartmouth. Count Bertrand went into the cabin, and informed Buonaparte of it, who came upon deck about half-past four, and remained on the poop until the ship anchored in Torbay. He talked with admiration of the boldness of the coast; saying, "You have in that respect a great advantage over France, which is surrounded by rocks and dangers." On opening Torbay, he was much struck with the beauty of the scenery; and exclaimed, "What a beautiful country! it very much resembles the bay of Porto Ferrajo, in Elba."
The ship was scarcely at anchor, when an officer came alongside, bringing an order from Lord Keith; of which I give an extract.
Extract of an Order from Admiral Viscount Keith, G.C.B., addressed to Captain Maitland, of H.M.S. Bellerophon, dated Ville de Paris, Hamoaze, 23rd July, 1815.
"Captain Sartorius, of His Majesty's ship Slaney, delivered to me last night, at eleven o'clock, your despatch of the 14th instant, acquainting me that Buonaparte had proposed to embark on board the ship you command; and that you had acceded thereto, with the intention of proceeding to Torbay, there to wait for further orders. I lost no time in forwarding your letter by Captain Sartorius to the Lords Commissioners of the Admiralty, in order that their Lordships might, through him, be acquainted with every circumstance that had occurred on an occasion of so much importance; and you may expect orders from their Lordships for your further guidance. You are to remain in Torbay until you receive such orders; and in the mean time, in addition to the directions already in your possession, you are most positively ordered to prevent every person whatever from coming on board the ship you command, except the officers and men who compose her crew; nor is any person whatever, whether in His Majesty's service or not, who does not belong to the ship, to be suffered to come on board, either for the purpose of visiting the officers, or on any pretence whatever, without express permission either from the Lords Commissioners of the Admiralty, or from me. As I understand from Captain Sartorius, that General Gourgaud refused to deliver the letter with which he was charged for the Prince Regent, to any person except his Royal Highness, you are to take him out of the Slaney, into the ship you command, until you receive directions from the Admiralty on the subject, and order that ship back to Plymouth Sound, when Captain Sartorius returns from London."
Along with the above order, I received a letter from Lord Keith, of which I give some extracts.
"You will perceive by the newspapers, that the intelligence had reached London before Captain Sartorius, owing to his long passage. I have a letter from Lord Melville to-day, enforcing in the strongest manner the former orders,—even that no person, myself or Sir John Duckworth excepted, shall be suffered to come on board the ship, till orders are sent from Government; which you will be so good as strictly to comply with. Let him and his want for nothing; and send to me for any thing Brixham cannot furnish; I will send it to you by a small vessel. You may say to Napoleon, that I am under the greatest personal obligations to him for his attention to my nephew, who was taken and brought before him at Belle Alliance, and who must have died, if he had not ordered a surgeon to dress him immediately, and sent him to a hut. I am glad it fell into your hands at this time, because a Frenchman had been sent from Paris on the mission, a Monsieur Drigni."
Buonaparte recollected the circumstance alluded to, and seemed much gratified with Lord Keith's acknowledgments.
Napoleon and all his attendants were very anxious to see as many newspapers as possible, but particularly the Courier, which they considered the Ministerial paper, and most likely to contain the intentions of Government respecting them. They received little encouragement from any of them, but least of all from those which are supposed to take the Ministerial side in politics, as they not only contained a great deal that was personally offensive, but stated, in very plain terms, that none of the party would be allowed to land in England, and that St Helena was the probable place of their ultimate destination. Buonaparte himself always affected to consider this as a mere newspaper report, though I believe it gave him a good deal of uneasiness. His followers received it with much irritation and impatience, frequently endeavouring to convince me that our Government could have no right to dispose of them in that way, and talking to me, as if I had been one of his Majesty's Ministers, and had influence in determining on their future destination. All I could say on the subject did not prevent them from frequently recurring to it, and appealing against the injustice of such a measure.
This morning General Gourgaud returned from the Slaney, which we found lying here, not having been permitted to land, and having refused to deliver the letter he had been charged with for the Prince Regent to any person except his Royal Highness himself.
When I was conversing with Madame Bertrand, she said, "Had the Emperor gained the battle of Waterloo, he would have been firmly seated on the throne of France." I answered, "It certainly might have protracted his downfall, but, in all probability, he would have been overthrown at last, as the Russians were fast advancing, and he never could have resisted the combined forces of the Allies." To which she replied, "If your army had been defeated, the Russians never would have acted against him." "That I cannot believe," I said, "as they were using every effort to join and support the Allies; and the assertion is ridiculous." "Ah," said she, "you may laugh at it, and so may other people, nor will it, perhaps, now be discovered; but remember what I say, and be assured that at some future period it will be proved, that it never was Alexander's intention to cross the frontiers of France, in opposition to him."
In the course of the day I received many applications for admittance into the ship: among others a note from a lady residing in the neighbourhood, accompanied by a basket of fruit, requesting a boat might be sent for her next morning. I returned a civil answer, informing her that my instructions would not admit of her request being complied with: no more fruit was sent from that quarter. Lord Gwydir and Lord Charles Bentinck also applied for admittance, but with no better success.
No sooner was Buonaparte's arrival known in the neighbourhood, than the ship was surrounded by a crowd of boats, people being drawn from all quarters to see this extraordinary man. He came often upon deck, and showed himself at the gangways and stern windows, apparently for the purpose of gratifying their curiosity, of which, as he observed to me, the English appeared to have a very large portion.
In the evening, the officer who had been sent to Plymouth, on the ship's arrival, with despatches for Lord Keith, returned, bringing letters, from which I give the following extracts:—
Extract of a Letter from Admiral Viscount Keith, G.C.B., addressed to Captain Maitland, of H.M.S. Bellerophon, dated Ville de Paris, Hamoaze, July 24, 1815.
"The officer of the ship you command has just delivered to me your letter of this date, reporting your arrival in Torbay, with the Bellerophon and Myrmidon, having on board Napoleon Buonaparte and his suite. I have also received your other letter, explaining the circumstances under which you were placed, when you were induced to receive Napoleon on board; and I shall transmit the same to the Lords Commissioners of the Admiralty, in confident expectation, that his Majesty's Government will fully approve of your conduct."
Extract of a Letter from Admiral Viscount Keith, G.C.B., addressed to Captain Maitland, of H.M.S, Bellerophon, dated 24th July, 1815.
"I take the opportunity of your officer's return, to congratulate you and the nation, and to thank you for the perfect manner in which you entered into my views on the subject, and for the management of the blockade, about which I was most anxious. It will not be long ere you are instructed by the Government: the first express would arrive about four o'clock this morning, and I attempt a telegraph message, but it is cloudy. I beg you will send for any thing you may want, to me, and it shall be sent instantly; and I beg to present my respects to Napoleon, and if I can render him any civility, I will consider it my duty, as well as in gratitude for Captain Elphinstone's report of the attention he received from him on the field of battle."
— Captain Maitland of H.M.S. Bellerophon  writes about July 24 1815.
(The image above is actually when Napoleon is off of Plymouth, a few days later.)